Sunborn Gibraltar: what the first five-star superyacht hotel looks like a decade on
Evening Standard
The Escapist, Radikha Aligh | 8th August 2023
With 300 days of sunshine, Gibraltar is a no-brainer when considering a sunny weekend escape. Strategically located at the entrance to the Mediterranean Sea, right next to Spain, this tiny British outpost is brimming with history, nature and diverse culture.
As well as a charming old town and the iconic rock, Gibraltar is also a sought after destination for yachters, thanks largely to its VAT-free status. Back in 2013, Sunborn made headlines when its 465-foot purpose-built yacht became the first five-star superyacht hotel in the world to take permanent residence on the sun-soaked overseas territory. A decade on, with Sunborn London under its belt and others in the pipeline, we went along to see whether the floating hotel concept still has appeal.
Where?
Docked in the busy Ocean Village Marina, Sunborn has unparallelled views of the prominent limestone Rock of Gibraltar on one side and bobbing yachts on the other. Most of "Gibs", as locals call it, is accessible on foot. Grand Casemates Square and the main shopping street are a 10-minute walk away, and the route to the airport, which requires you to cross an actual runway, takes no more than 15 minutes.
Style
Guests enter the hotel through a covered pathway laid with a red carpet. Inside, crystal disco ball chandeliers, bright neon lights and a grand stairway await with a spacious reception area plastered in marble. Bling and glamour travel across the hotel, where shades of beige and white contrast with brown and red in the suites and purple in the restaurants.
Sunborn combines the classic cruise ship design with modern designer hotel vibes. The corridors to the rooms are dark, decked out in deep tones of brown wood; while the common areas are bright and flooded with light. Glass cabinets advertising the region's speciality gin called Spirit of the Rock and Sunborn's merchandise dress the area around the elevators.
Rooms
There are 189 rooms and suites, including six one-bedroom penthouse suites and two apartment suites boasting two rooms. Almost all rooms have a balcony or terrace facing the sea or the Rock. Our suite had a large living space and a bedroom with floor-to-ceiling windows that opened to a wide balcony with sun loungers, a breakfast table and a sofa overlooking the majestic Rock of Gibraltar. The flamboyance carries through to the bathroom, which is clad in marble and glimmering gold mosaic tiles. From lights to curtains, everything here operates at a press of a button.
If you're in Gibs to relax, perhaps opt for rooms on the ocean side rather than ones facing the marina, as it tends to get too loud and very noisy, especially over the weekends.
Food & drink on Sunborn
Barbary Lounge on the top deck is where the breakfast buffet is laid out first thing in the morning. The place transforms into an all-day eatery presenting a menu that marries flavours and spices from the Mediterranean and North Africa. Moorish design flows through the interiors with light drapey curtains, floor lamps and patterned carpet. Evenings at Barbary are brought to life by live musicians and DJs entertaining you while you tuck into some smoked aubergine and freshly caught fish.
On the first floor, La Sala is a standout. With plush interiors dressed in silver velvet chairs, the restaurant serves tapas-style food with an Asian and Latin twist. The presentation is immaculate, with flavour combinations that will make you want to try the whole menu. I'd normally pick a star dish, but everything from the gyozas to the salmon gravlax cured in beetroot and sake to our churros for dessert was on point. Pair your dinner with punchy cocktails or a bottle of wine.
The hotel has a couple of bars: Aqua and Sapphire. The former is a casual outdoor space by the pool surrounded by sun loungers, perfect for cooling off the hot Med sun. Sapphire has a more formal indoor vibe, ideal for coffee or afternoon tea.
Facilities on Sunborn
Watch the sun slowly disappear behind much tinier yachts from Sunborn's top-floor deck. On the other side of the viewing platform are the infinity pool and Aqua bar overlooking glass buildings and a vibrant marina where the party continues until early morning.
No holiday is complete without a spa treatment that allows you to switch off and unwind completely – especially after a climb up the Rock. Infinity Spa offers a selection of anti-ageing facial treatments, relaxing massages, wraps and day-long spa rituals using Elemis and Janssen products. Spend a leisurely afternoon getting a couple's session with champagne in hand.
The liveliest spots in Gibraltar are quite literally at your doorstep when living at Sunborn. On the ground floor of the property is a casino that is home to 15 jackpot machines, electronic and pinball roulette. The venue also hosts regular poker tournaments and has a VIP area for privacy.
Extracurricular
It might not seem large, but Gibraltar has plenty of interesting activities to fill your days and evening, from hiking and diving to wildlife watching and all-night partying.
The main landmark is the Rock of Gibraltar, a 1,398-foot-high limestone monolith formed over millions of years through sedimentation and tectonic processes. Visitors can take a cable car to the top for 360-degree views of Gibraltar, drive up or hike, making a pit stop at St. Michael's Cave, where a display of impressive stalagmites and stalactites come to life with a light and sound show. It's also a natural auditorium for music concerts and events.
Despite its urban surroundings, the Rock is home to diverse plant and animal species. One of the most notable inhabitants is the Barbary macaque, Europe's only wild monkey population. The flower Gibraltar candytuft is native to the upper section of the Rock and is the only place in Europe where it grows in the wild.
Gibraltar is also famous for its duty-free shopping, much of which is based on Main Street just off the bustling square. While there, make your way to the Garrison Library and the Gibraltar Museum. This quaint museum, located in Bomb House Lane, covers everything from history and culture to archaeological finds and excavations dating back to the 1950s.
Away from land, its waters are home to several species of dolphins that come here to feed and reproduce. Visitors don't have to go far from the coast to see hundreds swimming under the boat, riding the waves and being playful. The common bottlenose dolphin is the most well known and frequently spotted species.
Best for…
Anyone looking for a long weekend getaway in the hustle and bustle of Gibraltar. Party lovers only need to head outside to access some of the best nightclubs in Gibs, and there are plenty of culinary options too, from Indian to Irish. For families, there is the option of heading to the beach or just relaxing on the sun decks.
Booking details
British Airways and easyJet operate regular flights from London Luton, Gatwick and Heathrow.
Rooms at Sunborn Gibraltar start from £185, with all-inclusive options from £299 per couple, per night. To book, visit sunborngibraltar.com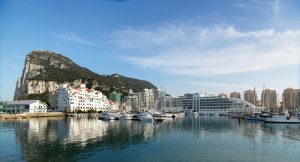 For more on what to see and do in Gibraltar, visit visitgibraltar.gi
Categories: Uncategorized
« "Sunborn Gibraltar receives British Airways Holidays accolade in recognition of customer excellence"
'Le Petit Chef' a 3 D Dining Experience at La Sala Restaurant »