New hub from Birmingham and Southampton with Eastern Airways coming soon!
4th February 20-21 by Sumit Singh
Eastern Airways shared today that it will be launching flights to Gibraltar from Birmingham from May 28th. Flights on this route will be operated by the British carrier's Embraer E190 jets and the price of tickets will start from £74.99 one-way.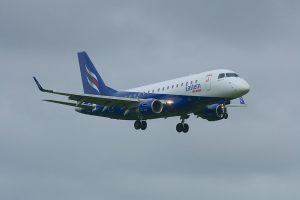 Birmingham Airport is glad to be connected to the British Overseas Territory of Gibraltar again after four years. The flights will operate twice a week on Mondays and Fridays. Flight T3 976 leaves Birmingham at 14:25 to arrive at Gibraltar International at 18:20. On the return, flight T3 975 leaves Gibraltar at 11:40 to land in the West Midlands at 13:35. All times are local.
Additionally, there will be flights Eastern Airways flights to Gibraltar from Southampton from May. Connectivity to this area of the Iberian Peninsula hasn't been so easy compared to many other airports in the area. However, Gibraltar is gaining the attention of airlines recently. For instance, at the end of last year, Wizz Air welcomed its first flight from London Luton to the territory.
Categories: Uncategorized
« Easyjet Gibraltar route set to launch 4th May!
How Gibraltar Became Europe's Pandemic Wedding Hot Spot »