Eastern re-connects Birmingham with Gibraltar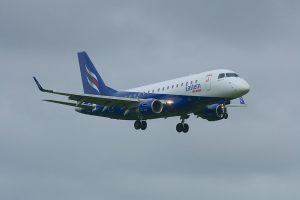 Eastern Airways has stepped in to plug a four-year gap on the Birmingham-Gibraltar route left by the collapse of Monarch in 2017.
The new service re-connects the Midlands with the green list destination with twice-weekly, year-round flights.
The regional airline's general manager Roger Hage said: "Being on the green list of destinations with a wealth of quality hotels, beaches, water-sports and heritage, this British Overseas Territory offers an exciting short-break destination aside from its role in UK business.
"Our work with the Gibraltar government and the airports and tourism teams have enabled this new service to start and complements the service from Southampton, highlighting the pivotal role Eastern Airways is playing in growing air services across all four home nations."
Birmingham airport aviaition director Tom Screen added: "The route has been unserved from Birmingham since 2017 so we are delighted to add this to our choice of destinations, once again, for our customers.
"Gibraltar, with its status on the green list, is a popular destination to our leisure customers, for a sunny getaway, but also an important business route providing access to this British territory. We look forward to working with Eastern Airways to offer customers more destinations direct from their local airport.
"Both Birmingham Airport and Eastern Airways have a full enhanced cleaning structure in place and can reassure customers that their safety if is of paramount importance.
Travel Weekly by Phil Davies, 1st June 2021
Categories: Uncategorized
« Sunborn Gibraltar Covid 19 Adapted Services
Gibraltar has not cancelled Christmas »